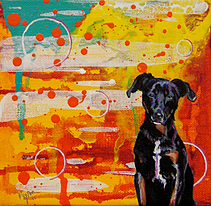 Corrine and Brian Vegter are the creative minds behind Dusty Dog Studio where they make artwork all about dogs and vintage inspired ceramic travel trailers.
Airstreams and K-9's are the focus of their work now, but they both came to the life they live from very different creative backgrounds. Their artistic careers started in Chicago in television production, for Brian, hair and make-up in the fashion world for Corrine. From Chicago they moved to the big city. New York City to be exact where they continued to flourish until one day in 2003, Brian sold all of his video equipment and picked up a paint brush. Leaving TV behind to paint one of a kind pictures of dogs while Corrine continued to work for clients such as Macy's and Urban Outfitters. She too had a life changing moment on a trip to Oregon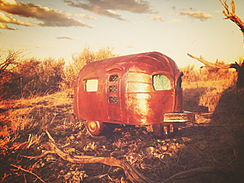 where the Urban Outfitters creative director suggested because of their love for outdoor recreation, the two make the move to Oregon.
Three months later in the fall of 2005 they packed all their belongings and headed west, where they eventually landed in Baker City, OR, birthplace of Airstream founder Wally Byam.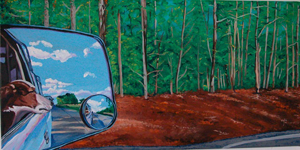 For the past seven years Corrine has focused on the creation of sculptural lanterns that pay tribute to vintage and modern Airstreams as well as other types of trailers that design-wise inspire her. While Brian continues to have dogs as his main subject a recent cross country trip to NY, in their 1962 Bambi, Airstreams have started appearing on his canvases as well.
To find out more about their work and love of trailers visit: www.dustydogstudio.com