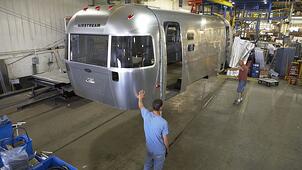 Highly distinguishable because of its unique shape, the Airstream Travel Trailer has become an American icon. As such, it's no wonder adventurers from all over are curious to know how they are made. We have even made it onto Fox News' list of the 10 Must-see American Factory Tours (view the full slideshow). Why? Because though the pursuit of simplicity appears to be a modern convention, it's been our business model for over 80 years.
Every year, we get thousands of visitors who come to see if it's really true how each of our travel trailers is handcrafted using real rivets. Plus, they come to share in a piece of history and become a part of an elite group of Airstreamers the world over.
So, if you've ever wondered how an Airstream is made, come to our free factory tour and see how we handcraft every single piece of the Airstream Travel Trailer. Handcrafted means so much more after you see it in action. Schedule a tour now.