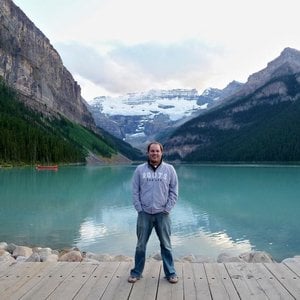 Wally Byam encouraged us to "strive endlessly to stir the venturesome spirit" and "open a whole world of new experiences." It seems as if he posed that challenge directly to Kyle Bolstad.
Bolstad, who lives and works in his 23-foot 2008 CCD International Airstream, is celebrating the completion of four years on the road as he enters his fifth, with no end game in sight.
His original objective? Airstream to every state—count 'em, fifty—play golf in each, and see his odometer roll to 100,000. Bolstad has exceeded his goals (except for that pesky 50th state) while making new ones along the way.
He doesn't know what got into him when he rolled away from Chicago four years ago, other than a loosely-based plan to seek a new place to live. "From the time I got it into my head to the time I signed the paperwork on the trailer, it was three weeks," he said. "In another week I had sold everything in my apartment and moved into the Airstream."
"I knew I could work on the road," he explained. "And that I wanted to see America and Canada and even other places. For how, the first and only thought in my mind was 'Airstream'. That was it. I didn't look at a single other trailer or model or anything. I drove an hour to the dealer and I walked into the exact one I have now and I just bought it. Inside it, I thought, 'oh, this is it'. I totally knew. I said, 'I guess I'm doing this!'"
"As much as I like Chicago, I was hoping there was something more out there," he said. "And yeah, there's definitely more out there!" His first destination was to a wedding in Connecticut, a "crazy" shakedown cruise of 1500 miles. "Then I came back and I toured around Michigan for a month to make sure I could do it while I was pretty close to home. But then I thought, I get this." And then he set out to see America, one state at a time.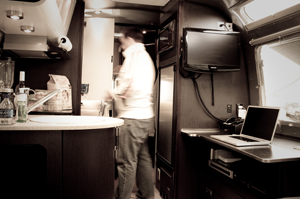 Like the Hank Snow song, he's been everywhere, man. "I've gotten to see so much of the country. It's really cool to see it all, the rural landscapes and urban communities." He chose Alaska, the 49th state, to be the 49th state he visited. "Hopefully, Hawaii, the 50th state, will be my 50th state," he said. How he'll get the Airstream there is the quandary. "I have no idea!" he said. "If you have any suggestions, let me know! There's got to be some way. That would be awesome to do."
What's the best state? "Every single person asks me that," he said. "That's a tough question. My favorite states are the ones on the perimeter, along the ocean. But what I figured out is that every state is cool, though you might have to search a little bit more to find where. But...maybe Florida. The Florida Keys are unreal. And the West, like Highway One in California and the Oregon Coast are awesome."
He also crossed the length of Canada, from Victoria British Columbia all the way to Newfoundland. "That was one of my best experiences, since I hadn't been up there before," he said. "Some of the big cities up there were just amazing."
Bolstad's rig exceeded 120,000 miles after returning from months in Alaska, through Canada, back to the lower 48. "I'm so glad I left Alaska until late and one of my last spots to see," he said. "It was so incredibly big and overwhelming and expansive. Every thing you can possibly think you've heard about it is true."
Alaska was the crown jewel in a journey comprised of one epic moment after another. "While I was driving there with the incredible mountains on either side of me and then Denali appeared, I got overwhelmed," he recalled. "I thought, 'I can't believe that I'm up here doing this all on my own, independent, and other than Hawaii, this is it, this is my goal, I did it'. It took me four years, but I did it!"
Ever ready to seize a recreation opportunity along the way, Bolstad packs a kayak, bicycle, golf clubs, chairs, lifejackets, pumps, a generator, and random road gear in the back of his is tow vehicle. "I made it a point to golf at least one round in all 49 states and ten provinces. I shot a 69 in my home state of Montana. I broke 70! That was another goal," he laughed.
Bolstad earned his pilot's license on his 35th birthday in 2010 and has enjoyed renting an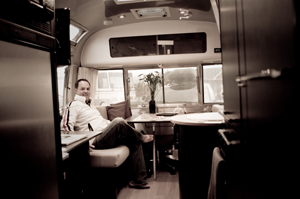 airplane and leaving the trailer on the ground from time to time. "I got to fly in Chicago. I put my golf clubs in the plane and flew to a little tiny airstrip in the middle of nowhere, landed, and my buddies picked me up and we went golfing," he recalled. He also flew in Colorado where he took his dad—also a pilot—to sightsee near the Rockies. "As a kid he took me flying. I returned the favor," he said. Bolstad has also flown in California, Illinois, Montana, and treated himself to some trips to the Keys. "To fly myself to different parts of the county, not take United or Southwest, but to fly myself, that's pretty cool," he said. "To be able to go around the country and rent an airplane and go see the countryside from above." While in Vermont Bolstad took lessons on Lake Champlain and is now also licensed to fly a float plane.
His journey hasn't been all beer and skittles. Life on the road is occasionally unnerving ("there's been a few times where I've literally woken up, like at a truck stop in the middle of the night, and just gotten out of there,") but more often lonely and boring. "When it starts to rain and the weather is horrible and I can't go outside and it's the middle of nowhere, it's just miserable at times," he said. "But that's one percent of the time. Mostly it's just great, and so liberating."
"There's no way I could do this without the Internet though," he said. "There's no way. I think you'd be really isolated. Email, Skype, and Facebook, things like that really help."
"Having an Airstream makes it easier to meet people just because of the iconic symbol of it," he added. "People come up to you and ask you what year is it, where did you buy it, how do you like it. At the gas station, as I'm filling up, they come over and want to see inside. In campgrounds, at the grocery store...I go out to my house in the parking lot to put my groceries away and meet people who want a tour of the Airstream. I always tell people it's like a mobile Manhattan studio apartment, it's so modern and retro, but I'm not stuck down in Manhattan. I can go wherever!" Meeting other Airstreamers is always easy, too. "When another one pulls in, instantly you go over and say hi."
"Getting to know the different types of people, from the middle of Nebraska to the Pacific Coast to the New Englanders, I got so much more out of the trip than I expected," he said. "Just meeting random strangers that maybe I'd talk to for ten minutes and then never again, or meeting people I'm the best of friends with to this day."
"When I first started, one of the very first spots I picked was an Airstream-only park in Pennsylvania," he recalled. "I remember meeting a lady there, in her 70s, and telling her 'I've got to get on the road', because I had to get someplace by a certain time. She said, 'Kyle, it's not about the destination, it's about the journey.' So, so, cliche, right? But she meant it in such a sincere way that I always think about it. There's no reason for me to get on the road at eight at night to drive to get somewhere by the next morning. Why not wait and drive during the day and see the countryside and see what there is to see? There's no reason whatsoever to get someplace in a hurry, unless I have a wedding or something to get to. So I always think of her, and I don't even know her name."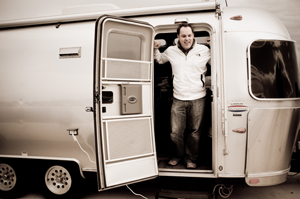 Another significant life lesson he learned on his ongoing journey is patience. "You know, things happen on the road," he said. "You meet all kinds of interesting people—good and bad—and get into all sorts of situations—good and bad. You learn to go with the flow and realize that every day is a different day and just deal with it; don't get worked up over every little thing."
Still looking for a place to settle—someday—-Bolstad says "I still haven't narrowed it down. Every state has something to offer, but I'm trying to find a city that has culture, the right climate, and the right standard of living. No place is perfect, but I'm trying to find that balance."
He has no deadline for finding that elusive Cinderella city, however. "That's the beauty of it," he said. "No schedule to keep, other than trying to stay where the weather is halfway nice, and where I can have connectivity. That's it."
"I could just do this indefinitely," he said. "It's a way to live; not everyone has to have a permanent residence."
Bolstad's job—working full time as a web developer for a company based in Chicago where many of the employees work remotely—makes his lifestyle easier, but he encourages anyone to find a way to pursue their travel dreams. "I say, do it! Everyone gets to make their own life and it's up to them to figure out what they want to do," he said. "If they get a job that can somehow supports that, great. I'm lucky, I get to work while I travel, but not everyone can do that, so maybe you need to save up a little bit and go take a big long one-year vacation. But totally, do it. Get on the road and see North America."
"I've pretty much been to all the places I've wanted to visit," he said, musing about the future. "There's not a lot I haven't seen, so I now want to go back to the places I really liked and spend weeks if not months there. Once the frozen tundra thaws up north I'll head up to Canada again and hang out in the Maritimes for the summer." Bolstad will also meet up with a group of other young Airstreamers in Banff.
"There's no plan like by such-and-such date I'm going to stop at a fixed location. Everyone asks me that, and I have no idea. It's wide open," he said. "Totally wide open. I honestly mean that. I literally wake up some mornings and have no idea where I'm going to spend the night. I just hop in the car, I have my home behind me, and I start driving. And whatever happens, happens."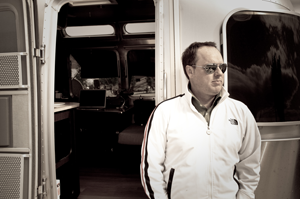 Yet after 120,000 miles, 49 states, all ten provinces and two Canadian territories, and 1500 nights on the road, Bolstad still has a final goal to achieve. "If somebody could tell me how to get a barge, I will put the Airstream on that barge and float it on over to Hawaii," he said. "That would maybe be its final resting place, who knows?"
Truly living riveted, Bolstad and his venturesome spirit will likely continue to dream, travel, and explore after bagging his 50th state. "If there was any way I could keep going to South America, or Europe, that would be incredible," he said. "Just to see this world. That's what life is about, right? Not just about commuting every day so you can make a paycheck so you can come back home so you can go back to work, every day. There's so much more to get out of life. To get to see this beautiful world."
Follow Kyle Bolstad's journey on
Twitter
,
Facebook
, and
Instagram
and at his
blog
.