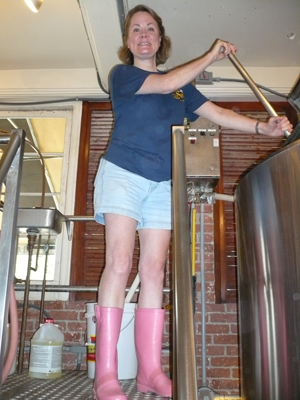 After 19 years as a professional beer maker, brewmaster Teri Fahrendorf "followed the clouds of wort steam across the country" and towed her 15-foot trailer more than 13,000 miles to brew and bottle with fellow beer lovers throughout the United States.
During her trip Fahrendorf enjoyed meeting her fellow "beer geeks", learning more about customer preferences, and adding to her "mental beer database". Now, six years later, she admits she didn't expect that the journey would take an epic turn.
"It was like giving birth when I didn't even know I was pregnant," she said.
When she embarked on the five month road trip Fahrendorf was pregnant—metaphorically—with triplets: the Road Brewer Project, her educational website, and the Pink Boots Society.
After resigning her position as Brewmaster at Steelhead Brewing Company, Fahrendorf decided it was time to pay a visit to the country's other breweries. "I always had brewing friends but I only saw them at events like conferences and festivals," she said. "I tasted their beer, but I never saw their brewery. I thought it would be great to go visit them and brew with them. They live all over, and some were in their 80s and it was my last chance to see them."
"Some breweries I just invited myself, I was so impressed with their beer," she added. "I just wanted to be with them for the day, and shadow one of the brewers."
"But, all of a sudden I had an identity crisis I didn't anticipate having," she said.
"I thought, I'm not a brewmaster anymore; what am I?" she said. "I was going on this trip and I didn't want to walk through the door and say 'hi, I'm a former brewmaster'. So I came up with an identity. Road Brewer."
She secured www.roadbrewer.com, fired up a blog, and started planning her cross country trip.
All she required was a flat space to dock her 14-foot trailer and minivan for the night, with access to a shower. "Your driveway or brewery parking lot could work," she wrote to brewers. "Anything free is appreciated, as I'll be unemployed!"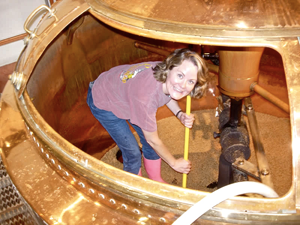 She painstakingly coordinated the trip to plan in advance how park her rig, avoid urban rush hour, and time her arrival before nightfall "but not so early that it would interrupt their customers," she said. "It was tricky!"
"I had to drive really carefully; this was pre-GPS," she said. "I had one on my laptop and could watch myself go down the highway but you couldn't really enter addresses. Plus it was always saying 'turn around' when it came to actually figuring out how to back into a brewery warehouse."
"It was kind of old school in 2007, using maps, and calling for directions and writing them down," she said.
She settled into her daily travel routine: rise early, jump behind the wheel, and strive to arrive at the next brewery in one piece, often fishtailing in the wind without the stabilizer bar that she uses now. ("I was kind of white knuckling," she said.) Up at dawn the following day, brew all morning, blog in the afternoon, then crash early in the trailer after a meal of granola bars (or, if lucky, dinner courtesy of the brewers.) Repeat. Visit nearby relatives on the weekends. "People ask me, 'did you see the Grand Canyon?' I said, 'are you kidding?'" she laughed.
She immediately learned that "blogs are a lot of work. There were many times I thought I could have more vacation fun and less work but I had so many people say 'I'm living vicariously through you; please keep going, please keep writing," she said. "They were saying, 'this is my fantasy trip!'"
Fahrendorf's "pink boots" persona emerged at Deschutes Brewery in Oregon—the first brewery she visited.
Throughout her career, other brewers were always surprised to learn that she was a woman in the typically male-dominated industry. "But then I start talking in the beer lingo and I become one of the boys," she said. "But on this trip I really felt like I was representing my gender and I wanted to keep that in mind."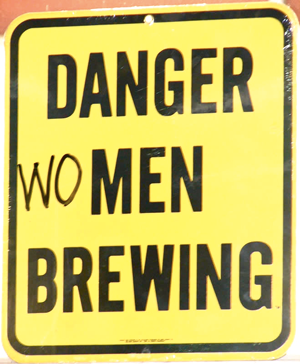 "The ubiquitous piece of brewery safety equipment is a pair of rubber boots," she explained. "You have to wear them." Her husband mentioned this fact to his mother, "and suddenly, before I left, this pair of pink boots arrived," she said. Fahrendorf wrote about them on her blog.
When she arrived at the first stop on her itinerary, she considered her entrance. "I had brought both pairs of boots; black ones that I'd worn my entire career, and that pair of pink boots from my mother in law. I'm looking at the pink ones, and I thought, 'I can't wear these bubblegum boots, they're too flashy.' So I went in the door with my black pair on and and the first thing they said to me was 'where are your pink boots!?'"
"I said, 'I left them in the trailer' they said, 'go and put them on.' I realized then that was my persona, and I had to wear them as part of my signature."
"I would walk into a brewery and people would say 'you're the pink boots lady; I was just reading your blog last night,'" she said. "'We know who you are, they told us you were coming and that we'd see you a mile away!' I was brand marketing and I didn't even know it."
While brewing or bottling with her hosts she was often surprised when sharing tips with younger brewers, both male and female, who had never learned the techniques she had used for decades. "I've been brewing so long I had forgotten I even learned some of the stuff I thought was completely basic," she said. "Newbie brewers needed information that I took for granted."
For example, Fahrendorf encountered some brewers discussing grain handling. "I wrote an article in 1993 about grain handling systems," she said. "I realized that if one person I met on the trip needed one of the articles that had been published in the past, other people would need it too. I realized I should start rewriting some real basic articles, and put them online somehow."
In addition to blogging, Fahrendorf created terifahrendorf.com from the road, where "everything I've ever written" (on basic topics like how to use a brew clock and a mash hoe) has been archived, and new educational articles as well.
New brewery owners often approach Fahrendorf to thank her, saying "'I've read all your articles, and they really helped me get started,'" she said.
"I'm not the guru that gets you to the top level, but I'm maybe the guru that can help you get off the ground when you're a homebrewer and you're not sure how to start a three, five, ten, or even one barrel professional brewery," Fahrendorf explained. "You can find the basic information on my website, and it's all free."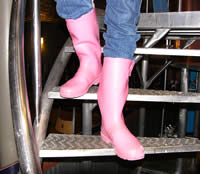 Fahrendorf soon stumbled upon an even more profound reason for her road trip when she was assigned to shadow a young woman at Stone Brewing in California. "She had never met another woman brewer before, ever, and she was in the brewing industry for two years already," recalled Fahrendorf. "When I told her I was a brewmaster for 19 years, I could kind of see what she was thinking: 'wow this doesn't just have to be a job for me; I could work my way up and achieve my career potential.' It felt like she was getting inspired by my story, and I was getting inspired by her."
Fahrendorf began to think of her own career in a different context. "I'm not a young person fighting my way up anymore," she realized. "It dawned on me for the first time that I was mentor material. That was the duty that I needed to take on."
"Once I was a thriving career person and ambitious woman brewer, working my way up," she said. "I realized then I wasn't just the leader of our brewery where I used to work, I am an industry leader. I'm now at a mature point in my life where it's my responsibility to be a mentor to others, and to mentor women specifically. It's absolutely necessary within our industry to encourage women to join it, and stay in it."
The young brewer was curious about other women in beer and asked how many there were. Fahrendorf didn't have an answer but vowed to seek them out as she traveled, and keep count. "I'd hear a rumor, 'there's one in Indiana somewhere' and I would add her to my list and track her down," she said.
To Fahrendorf it was clear: young female brewers needed—not just wanted—to connect with others who had more experience.
Weeks later, she was at dinner with another woman brewer who again asked, "how many of us are there?"
"By then, I had been counting," Fahrendorf said. "I had an answer! It's sixty." The other brewer then went further to say "Great! Who are they? I want to network." Fahrendorf began posting the list on her website.
"It was titled 'List of Women Brewers', and I thought, that's so lame," she said. "I thought well, I've got these pink boots on, and people seem to like that, and there's that group of women over fifty called the Red Hat Society, that's pretty snazzy," she reasoned. "I'll just call this list the Pink Boots Society. I didn't think too hard about it."
To her surprise, emails began to pour in.
"'Dear Teri, I'm a brewery lab tech', or 'I'm the packaging manager for a brewing company' they said. 'Can I join the Pink Boots Society?' I didn't think it was something you could join!" said Fahrendorf.
She built a separate website for the soon-to-be new organization, and with the help of the young woman from Stone Brewing, she convened a meeting of all the women on the list at the Craft Brewers Conference in San Diego.
"This is freaking historic," said Fahrendorf. "We ought to have journalists document this." She invited women journalists and beer writers (no brew bros allowed; "it changes the dynamic when you get the men in the room"), to be present when the Pink Boots Society was born. It's now an official nonprofit association, created to empower women beer professionals to advance their careers in the Beer Industry through education. All woman who earn a professional income from beer, not just brewers, are invited to join.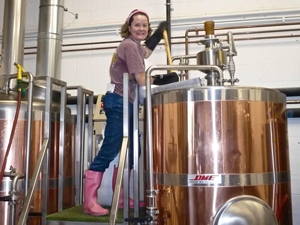 "We are all networking, and all mentoring each other," said Fahrendorf. "A young member from Seattle told me, 'the Pink Boots is where I connect; that's where I'm learning, it's meant everything for me in my career.' The thing is, before the Society a young gal like her would've felt very all alone out there working with the guys on the floor. Sometimes you think, maybe this career is not for me. But the Pink Boots Society is keeping women in the industry, and we don't have as much turnover now.
"Your heart swells with pride, listening to the members pass the microphone and introduce themselves," she said. "We have an amazing breadth of experience, and we can call on our own talent to teach each other. These women are running across the room to meet each other; they're paying attention to who does what and who they want to connect with. It's wonderful."
Fahrendorf has had six years to reflect on her Road Brewer project, and says that the trip significantly exceeded her expectations.
She knew she would enjoy the excitement of being in the moment and relish the camaraderie of her fellow brewers, but she was floored by the level of generosity she experienced.
"Brewers are a friendly lot," she explained. "Even if we are competitors, we're collaborative and friendly and we help each other. But the pure, heartfelt generosity of what I received on this trip astounded me."
"Besides meeting women and connecting with them, the brewers gave me lunch and dinner. People would want to show me around. One brewer even gave me a $50 gas card. People would invite me to their home. The people at Cape Cod Beer had me put the trailer at the beach so I could watch the sunset over Cape Cod, and they all went out there and had a beach barbecue," she said. "I met the brewer's children and spouses; they timed special events to happen while I was there. I was a perfect stranger, but they not only invited me to visit their breweries, they invited me into their lives."
Occasionally, brewers offered Fahrendorf employment at the companies she visited. "I hadn't really thought of it originally as a jobhunting trip," she said. "But I said, yeah, I actually am, I guess." But she new something greater was calling.
"I'm a big fan of Joseph Campbell," explained Fahrendorf, "I'm very aware of the 'hero's journey' and I realized I was on one. I couldn't just stop and take a job. There needed to be a complete story, with an ending, all the way back to where I started."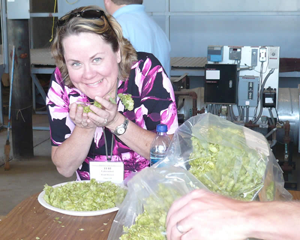 On a hero's journey, the central character returns a changed person, and brings something back, she explained, "something for the benefit of humanity. And the hero himself is changed—he's a stronger person."
"This was going through my mind the entire time trip," said Fahrendorf. "I was on a hero's quest or heroine's journey, going out into the world to learn something that I could bring back and make the world a better place."
"If you leave on a journey with an open mind and open heart, and are ready to receive what the world has to give to you, you will bring something back whether you know it or not," she said. "You are pregnant with the second half of your life; and when you come back with the gift, you will be ready to give it."
"What I brought back was the Pink Boots Society. It has benefited the industry," she said. "And who knows, if I'm lucky, humanity."
Find Fahrendorf's beer and brewing articles at www.terifahrendorf.com. The Pink Boots Society is a 501(c)3 charity. Visit the social networking destination for women beer professionals at www.pinkbootssociety.org) and support the PBS Scholarship Fund through donations or shopping at http://pinkbootssociety.org/shop/
Subscribe to the PBS e-newsletter at http://pinkbootssociety.org/newsletter-sign-up/.