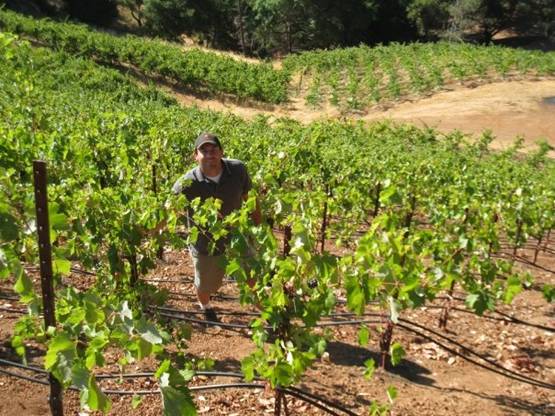 Mark McWilliams, owner of Arista Winery in Healdsburg, California, challenges his friends, family and customers to, "Dare to be great." And when you find yourself in the presence of Mark, who espouses the Live Riveted lifestyle by unconditionally following his passions, it's impossible not to feel inspired. It's impossible not to want to be great.
"I remember exactly where I was standing, what I was wearing and the direction I was facing when I realized that I was going to pursue winemaking for the rest of my life," recalls McWilliams. "I had this low man on the totem pole job and I probably didn't even know the difference between a Chardonnay and a Zinfandel, but I didn't care."
Even though his family owned property in the area, winemaking was a unique career path for a 19-year old University of Texas student from Texarkana, Texas. "I immediately set out to learn all there was to learn about wine and winemaking. I was consumed and started talking to and hanging out with anyone and everyone who had a connection to this business. Everything changed that day."
McWilliams and his family opened Arista Winery in 2002 with a mission to develop "the most elegant expression of Russian River Valley Pinot Noir." Committed to sustainable farming and business practices, Arista Winery has become a highly regarded winery with wines routinely receiving 90+ point reviews.
"It may sound cliché, but we don't do this for the reviews or the acceptance. We do this for the love of what we do," said McWilliams. "You work harder when you follow your passions, but the personal rewards are so much sweeter."
Since opening its doors, Arista has grown its annual production from less than 1000 cases to 5000 cases. Nearly all of Arista's wines are sold through its mailing list, the A-List, or directly from the winery's tasting room. In recent years, the McWilliams Family has acquired additional vineyard property in the Russian River Valley increasing their estate vineyards to approximately 30 acres.
"I think the secret to living riveted is to pay attention to your passions and continue to challenge yourself to be better," concluded McWilliams. "It's not easy. You'll feel crazy. You'll have doubts. But you always come back to 'so what?' and you make it happen."