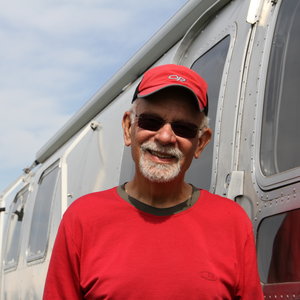 By Lou Shinnamon:
My beloved wife, Brandy, died of cancer in 2012 at the age of 62. We had only been married for 8 years.
Brandy and I loved Airstreams. We acquired our first one, a 1993 29' Excella, in October 2005 for the sum of $10,000. We bought it from a couple in Zullinger, PA, just 60 miles from my home in Cumberland, Maryland. We had been contemplating becoming "snowbirds," spending our winters in Florida and summers in Maryland. Now we could begin planning our first snowbird trip in our first Airstream.
In the winter of 2006, with the help of a friend, we found a campground in Homosassa on the Chassahowitzka River (locally known as "the Chas") in central west Florida, where we camped for three months. This was a special time in our lives. We were very much in love, and we enjoyed the adventure of camping on the river, where we spent many happy days kayaking and making new friends. We had fallen in love with camping, but decided we needed a larger unit. While back home in Maryland, we sold the 29' Airstream to a couple in West Virginia, and bought a 5th wheel. Our Airstream had come full circle, having been bought and sold within 60 miles of our home in Maryland. We could say that our Airstream, too, was a snowbird!
Some time later, we traded the 5th wheel for a 30' Airstream! It was very comfortable, but it had no dinette. After a trip to California in the 30', along with some shorter trips, I started thinking seriously about looking for another Airstream. Then in 2009, we moved to Florida permanently and bought a house.
Soon after we had gotten married, Brandy was diagnosed with cancer. This meant that we needed to be homebound much of the time. Since I was her primary caregiver, I needed to be sure she was safe and comfortable – but I also needed to stay busy. I started searching in earnest for a unit with a dinette. In 2010 I found the perfect one, a 2004 34' Airstream that needed a lot of TLC. This would provide me with a project that would keep me occupied at home while caring for Brandy. So I sold the 30ft Airstream and worked on the 34'. We were lucky in that we could park it beside the house so that I could work on it and still be close to Brandy. In March 2012, Brandy passed away.
That summer, I took a cross country trip with David, an old hometown friend. My brother Larry joined me on the return trip. We pulled the 34' to Portland, Oregon to visit my daughter Anu and my new granddaughter, Simone. Later that year, after taking a couple of shorter trips, I realized that I needed another project to keep me occupied, and started looking for an older Airstream that I could renovate and then sell. I scoured the classified ads and looked at every campground that I passed, but my "project" Airstream was not to be found.
One weekend in February 2013, I decided to drive around Citrus County to continue my search. The plan was that if I saw any Airstream, I would knock on the door to see if the owner wanted to sell. I had no luck on Saturday. On Sunday, I drove south towards the Chas River, and found myself at the same campground where Brandy and I had camped so happily on our first trip to Florida. Just before the park entrance, there's an RV storage lot. I spotted an Airstream in the lot, but the gate was locked so I decided to stop on my way out after looking around the campground. A couple of hours later, I left the campground, and again drove by the RV storage lot. This time, I saw a pickup truck and a man unlocking the gate. By sheer luck, or fate, I was passing by seconds after he arrived there. I parked and introduced myself to Don.
I asked Don if he knew anything about the Airstream in storage, and he said it was his. I told him that my wife had recently passed away and that I was looking for a project Airstream. He informed me that the Airstream was not for sale, but invited me in to take a look. As we chatted, I looked around at the familiar surroundings of an Airstream. This one had everything I needed, including requiring some TLC which could keep me occupied for a while. I asked Don if he knew anything about the previous owners, and he pulled out a notebook from the drawer under the couch which had been put together by a couple who had owned it in the past. The zippered notebook looked familiar. Don put it on the counter and opened it up to the first page, and there was a photograph. As I glanced at the photo, I felt the shock of recognition. The face looking back at me from the photograph was me! There was my name and address under the photo. I flipped to the next page and there was another photograph. It was Brandy, pictured at the door of the trailer!
At that moment, cold chills ran up and down my spine, tears were in my eyes. This was our trailer, the 29' Airstream. And here it was, very close to the same campground where we had spent such happy times together. It had not only been bought and sold so near to our hometown in Maryland, but had returned to its snowbird home in Florida. Fate must have had a hand in this! I turned to Don and explained that this was our first Airstream. He said that he had bought it from a couple in West Virginia, the same couple we had sold it to some years before. Don had then brought it to Homosassa, Florida to the very same campground where we had first camped on the Chas River, and it had been parked just three spaces from where Brandy and I had called home. The coincidences were piling up! Fate was playing its hand, big time.
Don and I could not believe that this was happening. I looked at Don and said, "You have to sell me this trailer." He replied that although a number of people had expressed an interest in buying it, none had the history that I did in that Airstream. He asked me to make him an offer. "$10,000," I said, the same amount I had paid for it eight years before. "I can't do that!" replied Don. My heart sank. "But I'll sell it to you for $8,500." With a huge smile and a full heart, I accepted.
The first trailer Brandy and I had loved was now home again. This part of our love story had a happy ending. Our 29' Excella is back where it belongs.