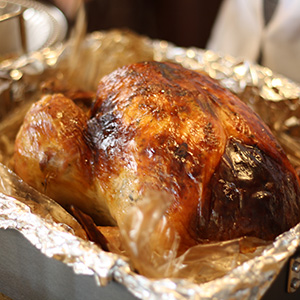 Each week we love learning more about your #LiveRiveted experiences through our challenges. This week, we invited you all to share your favorite Thanksgiving recipes, and boy did our mouths water from some delicious sounding dishes. One we loved was Lauren Miriya's Cranberry Pumpkin Bread. It's simple to make, but very delicious, and it makes the house smell like the holidays. Enjoy!
Recipe:
One of my favorite recipes for Thanksgiving would have to be Cranberry Pumpkin Bread.
2 1/4 cups flour
1 tablespoon pumpkin pie spice
2 teaspoons baking powder
1/2 teaspoon salt
2 eggs
1 1/2 cups sugar
1 3/4 cups pumpkin pureé (15 oz can)
1/2 cup vegetable oil
1 cup fresh or dried cranberries
Combine flour, spice, baking powder, and salt in bowl; stir to blend the dry ingredients well. Combine eggs, sugar, pumpkin, and oil in a mixing bowl, beating until smooth. Stir in flour mixture, then stir in cranberries. Spoon into a greased and floured 9x5x2-inch loaf pan. Bake at 325° for 1 hour and 15 minutes to 1 hour and 20 minutes, or until a wooden pick or cake tester inserted in center comes out clean.