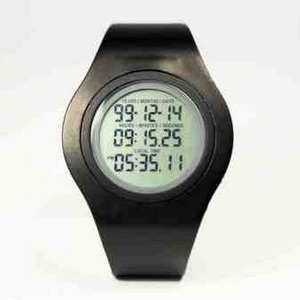 We've all seen the quotes that challenge us to consider what we would do if we had no fear. Or perhaps even more dramatically, what we would do if we knew we were going to die in a day, week, month or year. While pondering one's mortality might be considered a bit morbid, we wonder … is it? The people behind Tikker, a watch that counts down the time you have left to live (based on a formula that takes into account the law of averages and your lifestyle and vices, we imagine) don't think so.
Because Live Riveted is all about living in the moment and making your moments count, Tikker may very well be the ultimate Live Riveted tool (besides an Airstream, of course!). And apparently the idea is appealing, as more than 2,000 people donated a total of nearly $100,000 on Kickstarter to make sure Tikker gets produced. (The fund raising goal was set for only $25,000.)
The Tikker video on Kickstarter asks what you might do if you knew your time was limited. The answers are what you might expect (even in animated character form):
Travel

Spend time with loved ones
Let go of self-judgment
Live in more joy and less anger
And so on…
But it all kind of makes us wonder – what would YOU do. Really. What is that one BHAG (Big Hairy Audacious Goal) that you want to achieve before your ticker runs out on your Tikker? And be specific. Don't just tell us that you want to travel more … tell us where you want to travel and why. Don't just tell us you want an Airstream … tell us which one. The Airstream community – from the Streamers to the Dreamers – is filled with undeniably creative souls who have a tremendous vision for what it means to live. What it means to Live Riveted. Share your thoughts.
What's in it for you? All-New limited edition merchandise. We've produced some cool new t-shirts and hats (with even more stuff coming soon) and we want to give a few items away. We'll randomly select three stories to receive t-shirts. Tic-Toc. Time's counting down.