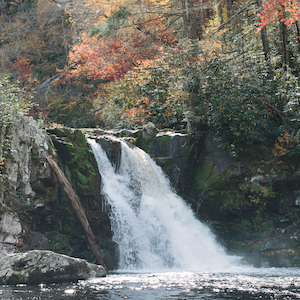 Back in the 1990s I visited the United Kingdom with some friends. We were on an organized bus tour and one of our quick stops was Grasmere. While the majority of my fellow tourists made a beeline for Beatrix Potter's cottage, I strode with purpose to the home of poet William Wordsworth.
"I wandered lonely as a cloud/ That floats on high o'er vales and hills,/ When all at once a saw a crowd,/ A host, of golden daffodils …"
The beginning of one of my favorite poems, so beloved in part because it presents such a strong sense of place. I didn't think of it consciously that way back then, but on some level it felt sacred.
"What is significant about sacred places turns out not to be the places themselves," writes Thomas Bender in The Power of Place. "Their power lies within their role in marshaling our inner resources and binding us to our beliefs."
Think about it. The feeling of the desert or the mountain or the waterfall. The beach oasis. The porch swing. The light-filled kitchen. The cushiony reading nook.
All, depending on the individual experiencing them, sacred.
You needn't walk through the woods near Mary Oliver's home to know them through her poetry, their sacredness, her sense of place. What do we know of Giverny, France except for what has been captured so vibrantly in Claude Monet's paintings? Little, if anything. His home, his core, his source expressed through his art.
We all have the capacity to be that, live that way. Embrace our place. Cultivate it. Carve out a spot. Or make it boundless, from the easy chair in our living room right on out to the community that surrounds us. One of the silver linings that came from being laid off from my television producing job in 2002 was the opportunity to be more active in my town and get to know its quirks and surprises.
Whenever something happens that affects my sense of place – be it Hurricane Sandy or a frozen pipe that causes flooding in my building – I am jolted in a way that I couldn't have imagined. It throws me off kilter. Then, once grounded again, I wind up in a place of magnificent appreciation. What a reminder that if all those emotions are occurring I must be doing a really good job of making my environment rich and warm.
And, dare I say, sacred?
Yes. No question. That, too.
"We often take for granted the places where we work and play," Frederic and Mary Ann Brussat write in Spiritual Literacy. "To get to know them again, or perhaps for the first time, involves acts of consecration and imagination."
I so enjoy glimpses of other people's sacred, from the topography of Georgia O'Keeffe's New Mexico to the cool vibe of the City Lights bookstore in San Francisco. In photographer Annie Leibovitz's book Pilgrimage there is a photo of Virginia Woolf's desk. So sacred. And a page from Emily Dickinson's herbarium. More sacred.
We assign this. We create this. We decide what resonates and inspires.
Our sense of place, at home, in the world.