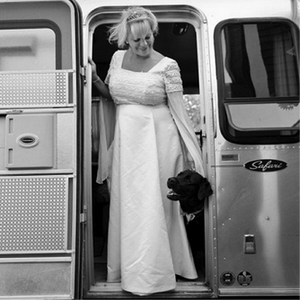 Happy Valentine's Day, Airstreamers!
Valentine's Day is all about love, so today we're sharing about the most love-filled day out there: a wedding day. We think everything is better when an Airstream is involved, so here are the top 5 ways to incorporate an Airstream when you get "hitched."
1. Getting ready for the day
Every bride needs the perfect place to get dolled up for the big day. Pull an Airstream up right alongside some beautiful scenery and you have an ideal setting to prepare.
2. Wedding photos
That shiny exterior is the perfect backdrop for bridal party photos or some awesome couples shots. We've begun compiling some of our favorites right here for you.
3. Photobooth
Photobooths are just plain fun, and having one in an Airstream adds to the ambiance. Compile all of your favorite props and have a photographer set-up shop inside the Airstream to document great memories. You can even print the photos and keep them in a photo album for a good laugh on your adventures.
4. The getaway "car"
Really, there's not much that says "Just Hitched" better than towing an Airstream away from your wedding.
5. Honeymoon
Honeymoons don't have to be to a remote island where the only travel you'll do is walking from your hotel suite to the beach. Instead, travel to some of the most romantic cities in the US with an Airstream in tow. To get your Live Riveted Honeymoon ideas going, check out this list of America's Most Romantic Cities according to Travel + Leisure.
If you're already married, then now sounds like the perfect time to renew your vows and pop some champagne in your Airstream. And then, it really is the perfect excuse for a romantic getaway!
To find more Airstream wedding ideas, check out our Pinterest board full of #LiveRiveted wedding inspiration.
Photo by: Wedding photographer Rebecca Clarke of Nova Scotia; Bride: Jojo Plachta