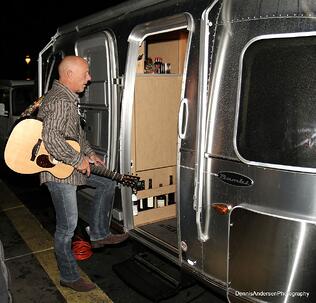 Tim Flannery was a Major League Baseball player. Tim Flannery is the third base coach of the San Francisco Giants, with whom he's won two World Series rings. Tim Flannery is an avid surfer. Tim Flannery is an accomplished, award-nominated musician who has released 11 albums in 15 years. Tim Flannery is an Airstream enthusiast. Tim Flannery is a dad, husband, brother and son.
Tim Flannery is also a selfless philanthropist. In a sports and celebrity-driven media environment that feeds on showmanship, bravado, narcissism, ego and, yes, felonies, Tim Flannery has quietly donated time, money and even music to help people in need, including Bryan Stow. This is why Airstream was so drawn to Tim Flannery. And why his story is the first in our new LIVE RIVETED STORIES series. Tim's LIVE RIVETED STORIES piece captures Tim's thoughts on Bryan Stow and the events that unfolded on March 31, 2011.
Yes, March 31st. Today marks the third anniversary of the day that changed Bryan Stow's life, his family's life and even Tim Flannery's life. It's a day that changed hundreds, if not thousands, of lives. And today, maybe it can become a day that changes millions of lives. A day that not only changes baseball, but also the way people watch sports. Please watch this video. Share this video. Post it on Facebook. Tweet it out with #BryanStow. Let's get #BryanStow trending. Let's raise more money to help Bryan and his family. And let's help Tim Flannery carry Live Riveted torch. It's a lofty goal. An audacious goal. But, it feels more audacious not to try.
"People always ask me, 'What's your passion? Is it baseball or music? The want me to pick.' That's like asking me to pick between water and air," Flannery has said on multiple occasions. But, when we had the opportunity to spend two days with him recording the LIVE RIVETED STORIES piece, he added, "For me, my passion is whatever I'm doing at any given moment. Whether it's surfing, playing music, coaching third, spending time with my family, or taking in the sights and sounds at my ranch, I want to give whatever I'm doing everything I've got. That's just how I am. That's just who I am. I'm never going to pick a passion. I'm passionate about everything."
That's what it means to Live Riveted. And that's why Airstream is honored to showcase Tim Flannery. #LiveRiveted #BryanStow