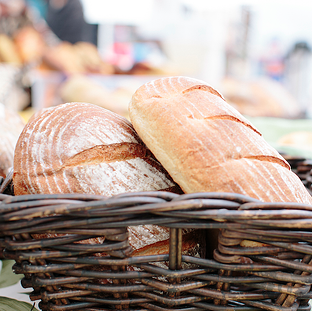 "Nan, I saw this pasta dish the other day," my mother begins a recent phone conversation on a rainy day. "I can't remember if it was Ina or Giada who made it."
Ah, yes, we've been talking about Ina Garten and Giada De Laurentiis, both of whom have popular cooking shows on The Food Network, as if they're our friends for many years. Mom keeps listing ingredients like lemon and arugula and broccoli and I move over to the computer to give it a go on Google.
"It was Ina," I tell her, then begin reading her the recipe for Lemon Fusilli with Arugula. "I found it online."
"Oh, you and those computers," says Mom, not exactly up on technology (Two of the three phones in my parents' house have cords that I untangle every time I'm there – but that's another story).
What I love about this is the way food has of connecting us in a special way. My mother generally has little interest in what technology makes possible, the joys of travel, or even venturing outside the comfort zone of her town. I am the opposite. I'm non-stop energy, independence and figuring out where to go next. Food often provides a bridge between our worlds.
When I landed an executive job in my 20s and was often out on business lunches and dinners in arguably the finest restaurant in the area, I told my mother about the asparagus served room temperature in a vinaigrette. She never tasted it done that way, but came pretty close to duplicating it from my description. Yet she had no interest in partaking in the actual fine dining, even when I bought her and my father a gift certificate for the place. She still prepares her asparagus this way regularly.
On one of our vacations at the Jersey Shore – her nirvana – she discovered a salad dressing so good that it became her mission to make it. Many of my happiest childhood memories are from our beach vacations because she was – and still is -- so light, so carefree and in her element there. There's nothing like coming off the beach for lunch and being greeting by tuna salad sandwiches and homemade lemonade.
Often in my travels I think of how much my mother would like this or that place, how I wish she'd get on a plane. I can't bring her gelato from Rome or deep dish from Chicago or rice pudding from that remote joint in that little town, although she does get a major kick out of hearing about it.
Recently I was at lunch with Mom and my aunt in their suburban area and I showed them a photo of a salad I ate at Mario Batali's restaurant, Otto, in New York. They were looking at my cell phone, dissecting ingredients.
"It tasted like it had fennel in it, but there was something else giving it that nice bitter edge," I said.
"Ohhhh," my aunt said, pointing to the photo. "Those are chunks of radicchio."
I nodded. Yes, of course. I should have figured that out.
"What was the dressing like?" Mom said.
And on it went.
Sometimes I don't feel like my life is a big pile of adventure, but when I compare it to where I come from it really is. It's taken me a long time to get that my mother likes that in me and enjoys coming along for the ride in a strictly metaphorical way.
After I found the lemon fusilli recipe online she told me to copy it down. I explained that maybe instead I'd just call it up on my phone the next time I was there or print it from the computer.
"How long would it take to copy it down?" she said. I could tell she was rolling her eyes.
For some things, there is no bridge.