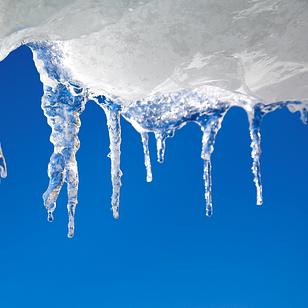 "Do you need to sleep here tonight?" the contractor asks, pointing to my bedroom.
It is in that moment that I realize I have much to be grateful for, because my answer is, "No, I have somewhere I can stay."
As I write this I have been pulled out of my routine. Because a pipe froze in my building during our icy polar vortex a few months ago, the living room and bedroom in my place need repair and a new coat of paint. The contractors got to work this morning, patching walls and covering all my furniture to get it ready to begin painting tomorrow.
Meanwhile, I type this while sitting on a leather couch on the 10th floor of a waterfront building with a doorman. Coveted real estate. As it happens, the friends who live here are out of town and have kindly offered it up for as long as I need to stay. It also happens to be one block from my home, so I easily wheeled an overnight bag from one to the other without a care about forgetting something. Whatever I need is a hop away.
I have the moment of gratitude and, oddly, I am grateful for it. As much as I'd like to say I'm Susie Sunshine and Polly Positive all rolled into one when life situations come up, I really have to talk myself into it sometimes. I live riveted to the idea of that disposition being my default, but a lot of times it's not. I have to work at it.
So yes, I'm grateful for being grateful. Because, despite my joy at getting freshly painted walls and all the loveliness that comes with that, I was a little petulant prior to the contractors' arrival. Ugh, why do I have to move all these books? Oh man, I have to unhook all the wires to my computer -- how will I ever figure out how to put it back together? And on it went.
The contractor is a pleasant guy. He's worked on projects in our building before. He's courteous, thorough, and even funny. Just seeing him walk into my apartment eased my mood and put me in efficient task mode. How can I make his job easier? That was my prevailing thought.
I share this not to brag, but to offer it up as an example of what can be. We can eye roll, go right to sarcastic, sigh, and even whine a little, but simple awareness of it is the first crucial step to turning it around to something that is at least polite and at best cheerful. I like knowing we have this power. I find myself executing it more and more.
What's really going on? That's what I tend to ask myself when I hear grumpy or even weary surfacing. In this case it was simple -- my home and routine were upended. My routine is something I tend to control with a firm hand. Very little penetrates it because my work, my creative flow, feed off it.
And yet, here I am writing a post. It's going swimmingly. The world is still rotating on its axis as far as I can tell.
My head will be resting on a warm pillow tonight.
There are fresh walls in my near future.
Yep. Grateful. Almost by default.