March 11, 2011 | by Becky Blanton
Carolyn and John Hacking did what they advise everyone they meet at RV shows to do: Start RV'ing early. Don't wait until you retire. "Everyone always says they're going to buy an Airstream and full-time when they retire. We tell them 'Why not start now—at least by buying an RV and traveling part-time'," Carolyn said. "Then when you retire you'll know what you're doing, whether you like it, and what kind of RV you want."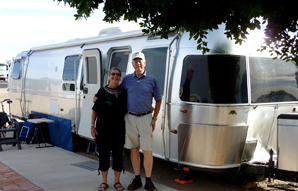 The Hackings took their own advice and bought their first Airstream, a 1974 27' International Land Yacht they purchased in 1988. The couple, both former Canadian government workers, retired in 2005. They're now on their 5th Airstream, a 2005 34' Classic. Canadian residents, the Hackings head south for the winter each year.
"There are basically three choices for staying warm in the winter," Carolyn said. "Florida, Texas or Arizona." The Hackings like Arizona because of family and friends in the area, but they've been to California and Florida as well. Heading south later in the year means most of the usual tourist attractions are closed for the season, but the Hackings say there are still unusual attractions to explore. "We did find a psychiatric museum open," she laughed. "It was interesting to see all the ways people used to be treated for mental illnesses, how they were treated and restrained."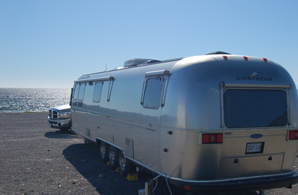 Retirement doesn't mean life slows down. "John rides his bike every morning with some of the other men in the park, and we travel and do something just about every day," Carolyn said. Having started traveling while they still worked, the couple got to see much of the United States long before they retired. When they finally did retire, they made friends and discovered places they wanted to spend more time visiting. "It's one of the best advantages of starting early," Carolyn said.
Pre-Retirement RV'ing Tips
Don't wait until you retire to try RV'ing. If you don't like it as much as you thought, at least you know it early enough to plan on doing something else after you retire. If you love it, who knows? You may quit your job and find a way to do it full-time and discover a whole new life!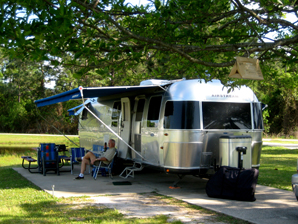 Before looking at a trailer, decide what you will use it for. Do you plan to take it out for weekends, weeks or months at a time? Will you be full-timing? Based on how much time you plan to spend in the trailer, decide how much storage space you'll need.
RVs don't have as much closet and storage space as a house, but they should have enough for the clothing and items you need. Measure the width of the closet and count the drawers and storage. Compare layouts and take your time deciding. Sit down at the table, stretch out on the bed, stand in the bathroom, and generally just get a "feel" for the floorplan.
Don't be afraid to sell your trailer after a couple of years if you're not happy with it. You learn something new with each model you own and someone will be thrilled to have your trailer, just as you'll love getting a new one yourself.