February 12, 2011 | by Rich Luhr
Kyle Bolstad has had a few mishaps. He backed into a cement wall once. He ran over his satellite dish another time. He's been detained at the border, and generally he's run into his fair share of challenges while full-timing in his Airstream.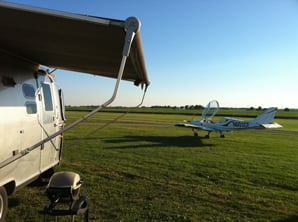 But he feels pretty good about it all, because as he said, he's "… had some truly amazing experiences. I have taken the Airstream on ferries in B.C., Nova Scotia, P.E.I., and the Outer Banks. I have taken it down every single mile of the Pacific Coast Highway from Blaine, WA to San Diego, CA. I went through all 10 Canadian provinces, and have been to 47 US states. I have stayed overnight in countless Walmart parking lots, rest areas, dirt lots, and friends' driveways."
"I have traveled over the Golden Gate Bridge, visited Mt. Rushmore, toured 17 US national parks, been stuck in NYC Friday afternoon traffic, walked in the Bay of Fundy at low tide, traveled over the Confederation Bridge, saw the Chateau Lake Louise, the CN Tower, the Chateau Frontenac, and Parliament Hill. I stay in touch with Airstreamers I met in Ohio, Lake Tahoe, Prince Edward Island, Florida, and some I have never personally met."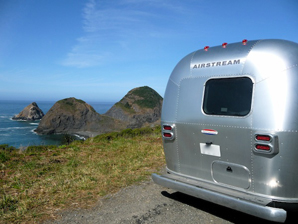 Kyle knows that his little mishaps are child's play in comparison with the travel memories he's gained—and he's gaining more every day. Kyle has lived in his Airstream full-time for more than 600 days. After selling most of his belongings from his Chicago apartment in 2009, his 23-foot 2008 CCD International became his home. And he's definitely digging it: "I could not be any happier with my purchase of the Airstream! No other travel trailer even comes close. It is exactly what I was looking for—inside and out. The iconic exterior and the modern interior are an exact match to my sense of design and usability."
Kyle has managed to make the open road his home because his work is as flexible as his schedule: he's an independent software developer who develops websites, iPhone and iPad applications, gives tech seminars, and provides one-on-one tech help to other travelers. Though he's occasionally constrained by poor Internet access in some locations, he often finds that the free Wi-Fi in RV parks and campgrounds does suffice, and that it can be supplemented at Wi-Fi-enabled coffee shops. His iPhone can be used as a mobile hot-spot when the connection is strong. He no longer needs postal mail—the road delivers all the messages he needs to read.
Weather does dictate much of his winter itinerary, however. "I go where the weather is nice; south in the winter, north in the summer. I find people I already know in various cities and hang out with them. I go back to a place if it is especially nice. If there is absolutely nothing remotely interesting in the area, I just spend the night and keep traveling. Last winter, I spent four months in a campground outside of San Diego. It was warm, and I ended up getting my pilot's license," Kyle said.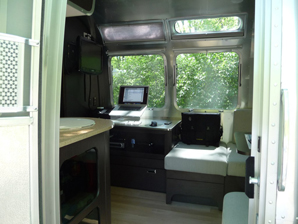 Kyle has made some modifications to the International, such as removing part of the couch and replacing it with a desk. He put in a solar panel to help while boondocking and dry camping, and has gone as long as an entire week just living off solar energy. He replaced the factory-installed marine batteries with zero-maintenance AGM batteries, and installed a surge protector and inverter to safely power his laptop, TV, phone, blender, and more from the Airstream batteries. Other than the occasional mobile setbacks already mentioned, his V6 Volkswagen Touareg has been up to the task, including topping mountain passes over 10,000 feet.
Kyle is fully aware he's got a mighty good thing going, and he appreciates that other folks feel the same. "I can't tell you how many times random people just knock on my door to see the inside of an Airstream. Even fellow RV'ers seem to take delight when they see me rolling into the campground with something other than the standard white-fiberglass, generic-brand trailer. People, in general, just love the look of the Airstream. They are amazed that I live such a normal life in such a unique and interesting way."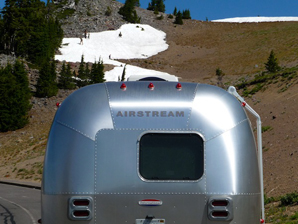 Kyle posts regular updates to his blog and his website, http://whereiskylenow.com. There you can see his Top Ten list of the fantastic places he's been, with commentary on what makes them great. And because he'll be on the move for the foreseeable future, that's a list that will keep changing. One item is a constant: the Airstream. "Imagine a trendy Manhattan studio apartment with views of the Pacific Ocean, the Rocky Mountains, the fall foliage of New England, and the sandy beaches of the Atlantic. I will be an Airstream fan for life!"