January 15, 2011 | by Rich Luhr
What better place to enjoy a "post-apocalyptic utopia" than in an Airstream? And not just any old Airstream (though they all have their charms), but a 2007 Design Within Reach (DWR) model, the 16" gleamer gussied by the designer/architect Christopher Deam. The DWR has all manner of tricked-out touchpoints, including a designer coatrack and a Nelson ball clock.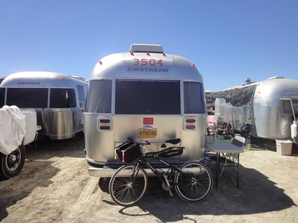 Those features and more prompted Rhonda Coleman and her partner Ralph to order one on the spot after they saw the 2007 catalog. "We're proud to tow the DWR. It turns heads; people point and make size jokes. I'm still glad it's only 16 feet, though 6'3" Ralph looks longingly at the bigger models," says Coleman.
"At a recent WBCCI Oregon Unit rally we held an open house of our Airstreams as part of the local car show; the DWR was the newest (and smallest) model on the tour. I loved listening to the comments from visitors about the upscale touches and clever use of the tiny interior space."
But what's a nice trailer got to do with the apocalypse? The couple are regular travelers in the trailer, hitting the road approximately once a month, two dogs included. "When we got the DWR, we taped a map of Oregon and Washington together and plotted a circle representing a three-hour distance from our home; we limit our weekend driving to anything within that radius," says Coleman. Fabulous scenery, like the Columbia River Gorge, might make the heart of the trip, or wine tasting at the Red Wine and Chocolate Festival, or the Fort Stevens State Park on the Oregon coast for Ralph's interest in military history.
But occasionally, the urge for something a little more edgy is stirred, and what fulfills that better than a jaunt to Burning Man in the Nevada desert? There has been an Airstream presence at Burning Man for years: "Burnside Court" is one of the notable enclaves. Coleman parked her rig with the "Airstreameri and Geologists" group that she'd met online; their covey hosted 15–20 trailers, most of which weren't crazily modified for the event. Coleman did see what looked like a Bowlus trailer made into an art car.
"Burning Man is something different to everyone. I think of it as a post-apocalypic utopia. It's spring break for adults; an experiment in generosity and community; a spectacle of memorable performances, eclectic music, ironic humor, stirring giant-scale art and naughty good fun. Some experience a renewal of their true and radical self that they find difficult to express elsewhere. 'Welcome home' is the customary greeting at the entrance," says Coleman.
Coleman had jolly fun visiting the art cars at night, listening to the marching band with the flaming sousaphone, dancing at the club installations, and of course, the ritual burning of The Man, which culminates the gathering of the tribes. Being in the DWR provided a familiar base from which to mingle in the madness. "As a woman traveling by myself and a Burning Man 'virgin,' it was a comfort to know I'd be with people who all shared at least one thing in common: our Airstreams. Even though I didn't yet know them, that fact established a level of trust that allowed me to take the leap to go to Burning Man for the first time. I arrived alone and disoriented after dark, and my Airstreaming neighbors immediately put a drink in my hand, attached glowsticks to my wrist, and took me with them to take in the nightlife on the playa. I felt instantly welcome and accepted."
So welcomed that Coleman plans to make Burning Man 2012, and only because her big trip in 2011 will be to Alumapalooza. In the meantime, she'll keep up her travel blog, and working on her iPhone app called "Hidden Portland," for visitors or locals looking for offbeat, under-the-radar Portland activities.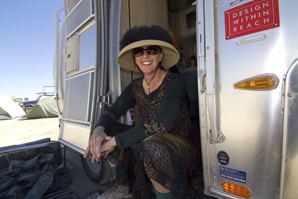 And the DWR will be waiting for its next venture to Burning Man, where it supplied (according to Coleman): "Shelter from the dust storms. Air conditioning. A stereo to listen to the 24-hour BMIR radio station. A kitchen with a fridge to prepare potluck food away from the heat and blowing dust. A real bed, and a door that can close once in awhile against the relentless stimulation that is Burning Man. All within an solar-powered aluminum pod that fits right in with the playa aesthetic."