March 19, 2013 | by Airstream, Inc.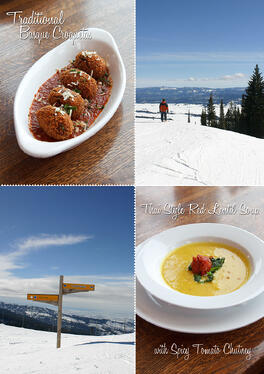 Monica Bennett writes a travelogue based around her non-stop outdoor adventures and culinary discoveries in the Pacific Northwest all while traveling in her Airstream travel trailer. Her recent excursion went from the top of Mt. Constitution in the San Juan Islands to the high desert in stunning Oregon to some of the finest ski resorts in the Pacific Northwest. Her travelogue, Just 5 More Minutes ("J5MM"), keeps her busy traveling, photographing and writing about inspirational people, the great outdoors, and culinary adventures in the beautiful Pacific Northwest.
"We have recently returned from an epic trip to the beautiful town of McCall in none other than breathtaking Idaho. During our stay, we experienced some unheard of outdoor adventure — from snowshoeing through a tiki torch lit forest to enjoy a five course culinary experience in a cozy yurt by the lake to snowmobiling 22 miles into backcountry to soak in hot springs near an old goldmining boom town. Let's not forget the fantastic skiing over at Brundage Mountain as well as the infamous Tamarack Resort."
Follow her travelogue as she shares her travels in an eight part series on www.just5moreminutes.com/blog. She'll cover McCall and the culinary/winter adventures to be experienced there. If you are interested in having J5MM come and visit you, please don't hesitate to reach out to her. She's always looking for fresh new story ideas to not only share with her readers on J5MM but with readers at the Huffington Post and Williams-Sonoma as well.