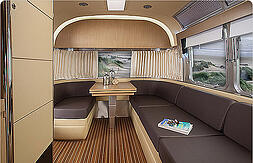 The Land Yacht Concept isn't just the work of one person or even one company. It's the product of the collaboration between designers, planners, and artists, with the goal of creating a top-of-the-line vehicle that melds the best of marine travel with the quality and style you expect from Airstream.
The Land Yacht Concept originates from Airstream – in fact, it is a revival of an older, retired model that was introduced back in 1960 as one of the first travel trailer models to be furnished with all propane powered appliances for use in remote areas. Previous models always required an electrical energy connection. The final design for the new concept came from two other sources. Primary design work was completed by the studio Officina Italiana Design, headed by long-time Riva Yachts designer Mauro Micheli, along with the engineering department of Tecnoform S.p.A, a maker of fine cabinetry.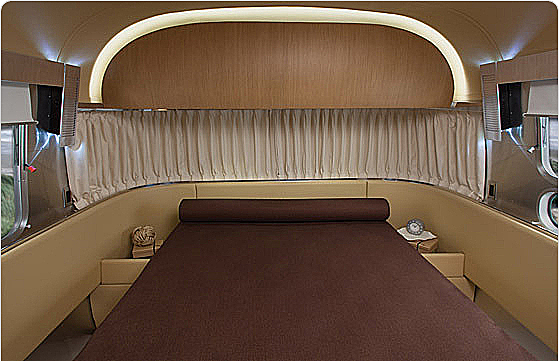 By bringing in outside help with a unique skill set, we were able to realize the Land Yacht vision fully. Airstream is the first name in travel trailers, so it was only natural to join forces with experts on yacht design. Officina Italiana Design has been Riva's official designer for years, and Micheli's ties with Riva stretch back to 1984, when he came on as an assistant designer in the shipyard's technical office.1 Tecnoform's award-winning design lab has experience both in the design of yachts and of recreational vehicles, so naturally they were a perfect fit for this project which required a mixture of land and water elements in the design.
Designing a yacht for dry land was a unique creative challenge, and the best way to meet a unique problem is for experts to work together on a solution. With the vision and skill of Tecnoform and Officina Italiana Design, the Land Yacht is a resounding answer to that challenge.
---
1 http://www.riva-yacht.com/visitors/index.php?page=corporate&lang=en&mod=design