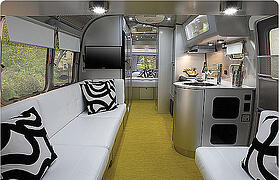 Most people don't worry about style when they travel. If you're camping, you're outside being active – what does it matter how you look? Well, for them a beat-up truck and a ratty tent might do well, but Airstream thinks camping can be as stylish as a Hollywood premiere. That's where the International Sterling comes in.
Designed by Christopher C. Deam and built by Airstream, the International Sterling has a retro charm that combines with a contemporary vibe that takes the party out of the city and into the wild. The International Sterling provides a clean, stylish, and modern approach to camping unlike any other. The exterior is classic Airstream – the iconic "aero-exterior" with the lightweight aluminum and rounded, streamlined shape that give Airstream trailers the fuel efficiency that has built our green reputation for decades.
When you step inside, everything changes. Fresh, clean colors and sleek metal surfaces create an ultramodern feel. High-definition televisions and a premium sound system combine with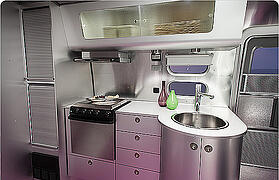 premium fixtures to build an atmosphere that's media-driven and social. Deam's design is simple yet striking, and makes the most of every inch of the Sterling – providing everything you want on the road, without clutter or compromise.
The Sterling comes in two floor plan sizes and two color schemes, the Arctic Dijon and the Obsidian Violet. The warm colors of the carpeting combine with the reflective aluminum walls and fixtures to create an inviting ambiance that permeates the cabin. From top to bottom, the trailer exudes style.
The
International Sterling
is the perfect fusion of form and function, past and future, ruggedness and style. A Sterling is never out of place, and will always attract attention (and only the good kind). Whether you're waiting for your close-up or throwing a martini party in the most out-of-the-way place, the Airstream International Sterling creates hip ambiance anywhere.