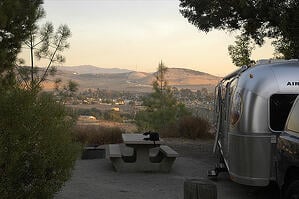 If you're an Airstream owner, or just the type of person who likes to read an Airstream blog, there's a decent chance that you are a glamper. There's an even greater chance that you don't know what "glamping" even is, so it might be good to start there.
Glamping is, in short, luxury camping. The word is a combination of "glamour" and "camping," showing that even in terms of naming, glampers aren't about to leave the house without some style. This doesn't mean a glamper isn't willing to get down in the dirt when hiking through a cave or drenched while kayaking down a river. Glamping has all of the benefits of traditional camping – fresh air, enjoying the outdoors, communing with nature – but adds in some of the benefits of staying in a nice hotel (indoors). So are you a glamper? Here are some clues that might help you decide.
When you get up in the morning, you make crepes for breakfast instead of eating Pop-Tarts
You brew an espresso in the morning versus drinking instant coffee
To stay cool, you turn on your air conditioner instead of using a hand held fan
All of your food is kept in a freezer or fridge rather than a cooler
When in need of a light, your flip a switch instead of using the campfire light or a lantern
You sleep in a feather bed with a special supportive pillow instead of a sleeping bag on a root or some rocks
There is a screen door to keep out bugs rather than coating yourself in bug repellant at night
You wake up smelling like soap and fresh brewed coffee rather than a campfire and bug spray
Clothes are crisp and dry from being stored in a closet instead of damp and creased from last nights dew
You watch a movie at night versus telling ghost stories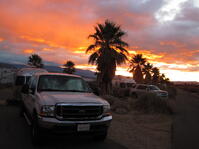 Although Glampers love their personal luxuries, the luxuries don't take away from the amazing outdoor adventure. Glampers still love exploring the wild and serene places of the world. It is still an adventure no matter what your style of living may be during those trips. With all the amenities available in an Airstream camper, you can go glamping wherever you like – experiencing the splendor of the great outdoors, without leaving behind the luxury of home.