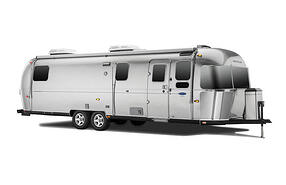 The Airstream name has existed for nearly a century, and when you look back to the beginning of the company, there's something you notice. While there have been numerous advances in technology, construction, and style since 1931, we have maintained basically the same look when it comes to our trailers. It's not because we're stubborn – it's because that design has stood the test of time, and helped us outlive most of our competition.
All of that history is bound in every part of the Airstream Classic Limited line. As the name suggests, it's classic Airstream, the perfect bond of quality and comfort with freedom and ruggedness. With innovative use of space throughout, our classic and durable aluminum build, and commitment to preserving fuel economy, up to 20% better, the Classic Limited is designed for the road. With residential-style galleys, spacious living areas, and fine furnishings and fixtures, the Classic Limited is ideal at rest as well.
Both inside and out, the Airstream Classic embodies its name. The outside matches the iconic, time-tested rounded edges, riveted paneling, and sheer aluminum glow that founder Wally Byam himself developed almost a century ago, and which have been synonymous with Airstream since. Inside, the Classic has three floorplans to choose from, so there's a design for what you need most. The real hickory hardwood cabinetry, Corian® countertops, Moen® fixtures, and plush furnishings mean that you don't have to sacrifice comfort on the road, no matter how far you are from the nearest hotel. With large windows to provide spectacular panoramic views from the cabin and light up the interior, the sense of space and grandeur is impressive.
The Classic Limited is the perfect expression of Airstream's commitment to design, innovation, and quality. It's the culmination of years of Airstream design and development, providing a link between the origins of Airstream and its present and future. But beyond everything else, Classic Limited travel trailers make you feel right at home – which, of course, you are.