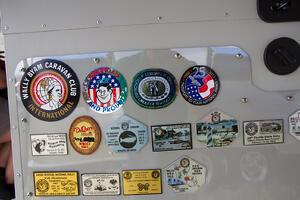 Airstream since its creation, has always had a focus on community. After all, how many other travel trailer companies can boast something as unique and community-driven as the pink flamingo? Whether you're new to the experience or a seasoned veteran, travelling in your Airstream is just more fun with others. That's where the Wally Byam Caravan Club International (WBCCI) comes in.
The WBCCI was officially formed in 1955, but its roots begin even earlier than that. To build interest in Airstreams and to help encourage people to seek fun and adventure in new places, Wally Byam himself invited other Airstream owners to join him on the road. His original caravans spanned the United States, Canada, Mexico, and other countries around the world. They also inspired the formation of the WBCCI.
Today the club has approximately 6,000 official members – but many more participate, as spouse or partner of a member. Members are divided by region, and most join units within those regions, where they can caravan and camp together, in addition to meeting at monthly unit rallies.
The signature of a WBCCI member is the red number on the front and rear of each member's trailer. This is their membership number, and is a public identification as a member of the WBCCI. "Airstreamers wear them with great pride," says Fred Richardson, marketing director for the WBCCI – and a member, of course. "They signal new and amazing journeys far and wide, trailering history, and life-long friendships."
And those journeys create great memories. "My favorite experiences are the caravans where you get to experience the same spirit of adventure that Wally set forth when he led his own adventure caravans," Richardson says. "I've participated in several local unit caravans that lead me to sites and activities across this great country of ours that I perhaps would never have seen on my own."
And new experiences are just more enjoyable as a group – and easier, too. "There's always someone that can help if you run into any mechanical issues, and by going as a group the cost is much cheaper than on your own," says Richardson. "We enjoy the fun, fellowship and adventure as we travel to and visit places we never dreamed possible. We have made lifelong friendships along the way just the way they did when Wally was leading the caravan."
From the original Wally Byam-led caravans to today, the best way to experience the Airstream lifestyle is together. And since its formation, the Wally Byam Caravan Club International has been the easiest, most enjoyable, and best way to find other Airstreamers and explore the world together.