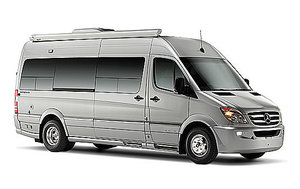 When you're on the road, there are certain things you have to have. You need comfort. You need economy. You need style. You need safety. But getting all of that in one, self-contained package isn't easy. Usually something must be sacrificed – but not with Airstream and Mercedes-Benz's Interstate touring coach.
No matter where you go, the Interstate gives you all the comforts of home, while maintaining fuel economy and protection for passengers – and it turns heads, as well. A number of available floorplans allow you to customize it to fit your needs, and with wet bath and galley, the Interstate doesn't stop until you want it to.
The Interstate handles like a car, and its Mercedes-Benz Turbo diesel engine delivers over 18 MPG and towing power up to 5,000-6,400 pounds. It has three times the safety airbags that others in the Interstate's class offer, and with front and rear parking sensors, passengers can rest easy, knowing their safety is secure.
Inside and out, the Interstate is visually striking. Exquisite exterior styling and design. Beautiful lines, superior stance, and an uncompromising presence. Inside, a variety of carefully chosen and stunning colors, finishes, and fabrics ensure that no matter your taste, the Interstate will be bold, beautiful, and contemporary.
The Interstate is a self-contained vacation – restaurant, hotel, transportation, and even the attraction. Its over 50 best-in-class features mean that whatever you need, the Interstate can provide, all in one package. Safety, style, economy, and comfort – the Interstate sacrifices nothing.