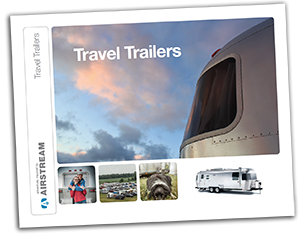 You've got the itch. You've been thinking about it for weeks, and you're ready. Ready for adventure, ready for freedom, ready to start exploring and experiencing the outdoors. But you're not an experienced camper – though you know you want to do your traveling in an Airstream, you're not an expert. Or perhaps you've spent summer after summer in the woods, mountains, or coast – but with twins and a dog, the old tent just won't fit your family anymore. You want to make sure you make the right choice.
Whether it's your first trailer or it's an upgrade, an informed decision is a smart decision. And the new 2013 Travel Trailers brochure is a great start on getting informed. It outlines much of what you need to know to choose the trailer that's right for you – stunning interior and exterior photography, floorplans, and updated technical specifications for each model available. It's Airstream's philosophy that everyone should be able to get out and enjoy nature – in nature. With a wide variety of options available, we try to make it as easy as possible for our customers to find an Airstream that fits their family, their interests, and their lifestyle.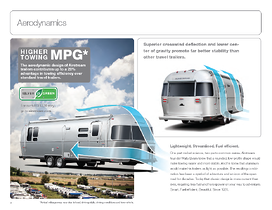 But along with that variety, there are some things you just come to expect from Airstream. In the new brochure you can learn more about the things that make our trailers some of the best and longest-lasting on the road. From innovative aerodynamics that make your trailer slip through the wind to durability and stability that ensure your family's safety, you can see what sets Airstream apart.
You're itching to hit the road, whether for the first time or the fiftieth. Make sure you do it right, in the Airstream that fits you best.