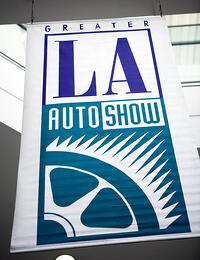 We at Airstream are proud to announce that our new luxury touring coach Interstate model will include nearly two dozen "Best in Class" Mercedes-Benz features, enhancements and a renewed commitment to safety and refined luxury. The first of these units will be shown during the Los Angeles Auto Show (LAAS), November 20-21.
The Airstream Interstate continues the tradition of extraordinary design and handcrafted quality that has made the Airstream a style classic for more than 80 years. The unique blend between Airstream and Mercedes-Benz produced a fuel-efficient, luxurious, safe, and comfortable way for travelers to explore the open road.
The new Interstate announcement follows news that Statistical Surveys Inc. (SSI), the premier provider of RV market intelligence, named the Interstate the number one selling Class B motorhome model in the U.S. From January to August 2013, Airstream increased its market share in the touring coach segment by nearly 30 percent, outperforming the industry which reports approximately 16.5 percent growth for the same period. Interstate sales are predicted to continue at a steady pace due to an increasing demand for sophisticated and quality units.
"The growing number of people who are inspired to get out and on the open road in an Interstate is exponential compared to when we first introduced this exciting product," said Airstream President and CEO Bob Wheeler. "Our focus on 'Best in Class' products and dealer support continues to be our foundation for success."
The Interstate's enhanced hood, fenders, radiator grill, bumpers and Xenon headlights give the unit a more aggressive styling. It is also equipped with new lane keeping and collision prevention assist systems, and parking sensors. Together, these components help to keep the Interstate's passengers safe.
The legendary design of the Airstream brand combined with the comfort, control, and luxury of Mercedes-Benz can also be seen in the Interstate's cockpit. It is enriched with subtle touches, including a thicker and lavish steering wheel and a Mercedes-Benz badged gear shift control, to make the driving experience more comfortable than ever before.
Features of the new Airstream Interstate also include, but are not limited to:
Premium Plank Style Vinyl Flooring

22" Samsung TV with Blu-Ray Player (replaces 19")

Magic Suede Material on Walls & Trim (more durable and stain resistant)

Highly-Advanced In-Dash Kenwood Multimedia System

MSRP for the Interstate is $146,300 and $149,006 for the EXT.
If you are in LA and can make it to the show, come see us. Otherwise, images of the new 2014 model will be coming soon so stay tuned!