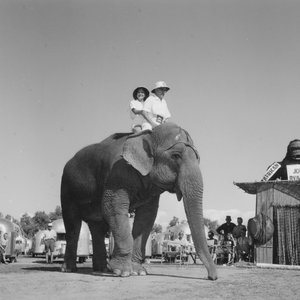 Did the dream of Africa enchant Wally Byam? As a youth did he read Tarzan of the Apes by Edgar Rice Burroughs or writings by Dr. David Livingstone and Henry M. Stanley? Where Wally's African aspirations came from were known only to him.
Maybe it was the National Geographic Magazine from February 1925 that dedicated an entire issue to the following article: "Cairo to Cape Town, Overland," a journey the length of Africa by a man and his wife.
In the early 1950's, Marius Hansen, a friend, employee and neighbor, had traveled across North Africa. He tales of intriguethat fascinated Wally about landing in Morocco and traveling across North Africa, the Middle East, and on to Europe. There were early plans to have a Morocco to Europe Caravan.
After the first caravan to Mexico and Central America, the seed must have sprouted Wally's imagination of having a Caravan from Cape Town to Cairo.
By 1957 the African Caravan was on Wally's agenda list. Then in 1958 the plans were laid to have an Airstream Wally Byam African Caravan.
Wally was fondly referred to as the three B's: Barnum, Bailey and Byam. He was a master of marketing and showmanship.
At the 1958 annual Airstream gathering in Palm Springs, CA he went all out to promote the 1959 African Caravan.
Wally hired studio props, actors, and elephants to present his African Adventure.
Stella and Wally dressed in Safari garb and rode through the gathering astride an elephant.
For the promotion in Jackson Center, OH Wally hired an African Lion.
The 1959 Airstream Wally Byam African Caravan is history, but the adventure with 41 Airstreams is a story repeated by Airstreamers again and again.