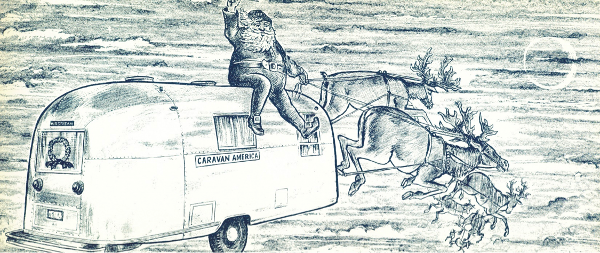 A Merry Christmas, Season's Greetings, and a Happy and Prosperous New Year.
What is Caravan America?
When Wally Byam became ill, his wife Stella Byam and the Airstream Executives discussed how to honor Wally after his passing.
They came up with the Wally Byam Foundation (1961–1977).
"PURPOSES…to help achieve a greater knowledge of the daily life and cultures and of the history and aspirations of peoples in our own county in all the Americas, and around the world - and thus to enhance international understanding and goodwill…
to further the concept of travel by trailer as a unique and an increasingly rewarding medium for the advancement of such education and communication on a people-to-people, person-to-person basis; and to that end, to encourage improvement in the environment in which such travel takes place, both at home and abroad…"
For fifteen years various programs were carried out by the Foundation. Airstream, General Motors, the Wally Byam Foundation and National Geographic provided for Caravans, and individual tours across the United States.
American diplomats were given the opportunity to familiarize themselves and their families to the greatness of the United States. Larger groups came from the United Kingdom, France, Germany, Japan and the United Nations diplomats.
The question might be, as usually asked, what might Wally think? His pride in the Foundation's accomplishments might give the sparkle in his eyes that was so familiar to those who knew him.
During this Holiday Season, have a Merry Christmas and a Happy New Year!