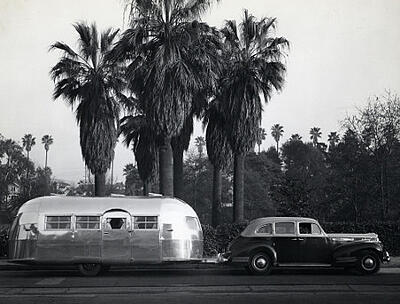 Sometimes the art of business is difficult to explain. Why did Wally Byam design and work for Curtis Wright at the end of WWII? Why didn't he start up Airstream? Why did Wally ever go back into manufacturing trailers?
When the war began, essential materials were diverted from non-
strategic industries into the war effort. Airstream, along with hundreds of other manufacturers, shut their doors until war's end.
Wally went to work for Lockheed in Burbank.
Towards the end of the war Wally compiled a very interesting notebook. On the pages, he entered everything required to open an Outdoor Camping Store and Catalog. There was a timeline on how to finance it, begin operations, and even write a book to assist not only the novice camper, but hints and help for the seasoned hiker and backpacker.
Wally was an avid High Sierra camper and hiker. This love for the outdoors explains his desire to begin a new adventure.
What happened? Why did he return to manufacturing trailers?
The exact date isn't known when Curtis Wright contacted Wally and made him an offer to design and manage a new trailer venture. The best guess is mid-1945 after Germany's defeat, and prior to the victory over Japan.
Curtis Wright had the financial backing and experience in manufacturing trailers to open a new company. Wally had the design knowledge that built the Airstream Clipper. The all-aluminum, rivet, and aircraft designed trailer was the goal of Curt (as Wally called CW).
In 1946, the Curtis Wright trailer was born. There was a second line more closely related to the Airstream Airlite. The Curtis Wright trailer in the picture is a great vintage product picture.
Why did Wally leave Curtis Wright Manufacturing and start up a post-war Airstream factory?
Apparently financial promises weren't kept by Curtis Wright and Wally drew a cordial line in the sand, with full knowledge that their relationship might come to an end.
Whatever the settlement, it propelled Wally back to manufacturing Airstreams. The Camping Catalog never became a reality. But his book on trailering, not backpacking, came about when he wrote Fifth Avenue of Wheels and Trailer Travel Here and Abroad. His books gave hints and guidance to travel trailer owners on how to successfully use their trailer and travel.
We are grateful for the business decisions that Wally Byam made. His fortitude created the Airstream World that is his legacy that we enjoy.