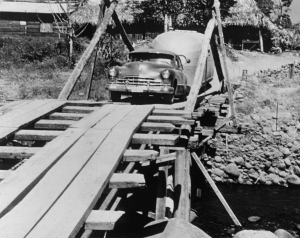 Wally Byam stood by his Airstream. If you had an automobile that could make it over any road condition, then you could take your Airstream with you. Of course, this was the early days - before four wheel drive and heavy duty utility vehicles.
In planning the first Airstream Caravan in 1951, which traveled through Mexico and Central America, Wally knew the roads were going to be rough but passable. He knew that the Pan American Highway had not been completed and in Southern Mexico, the Caravan had to travel by rail on flat cars to the Guatemalan border. Wally also knew that Managua, Nicaragua was the trail's end. The Pan American Highway is non-existent into Panama.
When least expected, the Caravan crossed primitive and localized bridges where villagers built bridges using practical applied engineering. The above picture shows a plank bridge in Mexico.
Eight years later, on the 1959 Airstream Wally Byam African Caravan, they experienced similar bridges. This created déjà vu moments from the 1st Caravan to Mexico and Central America.
Airstream's pedigree includes road testing on the six continents including North America, South America, Europe, Africa, Asia and Australia. Someday, Antarctica may be included.
The miles accumulated by Airstream Caravans and by individual owners traveling our world confirms, what Wally Byam bequeathed us in the "Wally Byam Creed."
Wally said, "To place the great wide world at your doorstep for you who yearn to travel with all the comforts of home."
Enjoy, and Live Riveted!