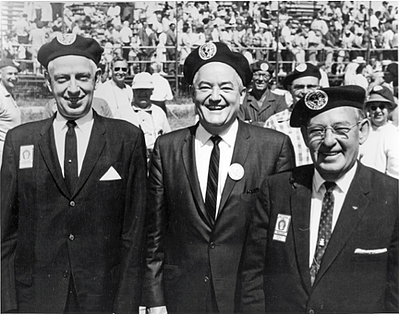 The Wally Byam Caravan Club annual International Rally was held in Bemidji, Minnesota in 1963.
From left to right are Enos Axtell, the WBCCI's 9th President [1]; Hubert H. Humphrey, Minnesota Senator and future 38th Vice President of the United States; and Bob Smith, the WBCCI's outgoing 8th President [2].
The first WBCCI International Rally was held in 1958 at Bull Shoals, Arkansas. There were deep roots leading up to this first International Rally in the United States.
Wally Byam had attended International Rallies in Europe from 1953 to 1956. Until 1956, Wally was the sole representative from the United States. He was so proud to be able to raise the American flag at the events. In 1956, the entire Airstream Wally Byam European Caravan attended the International Rally in Perpignan, France. It was an open house with meeting and greeting the many European and United Kingdom trailer enthusiasts.
Why an International Rally in the United States?
Wally believed that the WBCCI had sufficient membership to do this. So he suggested it to the WBCCI Board of Trustees. The consensus? A solid vote of confidence for the American rally. The planning was turned over to the Wally Byam Headquarters, managed by Helen Byam Schwamborn. The Wally Byam Caravan Club was composed of units in Canada, Mexico and the United States. Just within the Club they were International.
Wally also saw beyond the seas and hoped that others trailer enthusiasts might come from the U.K., Europe and other nations.
Until the Wally Byam Caravan Club was formed in 1955, most Airstreamers met on Caravans or Airstream sponsored rallies. The Club provided Units where members could meet and join in reliving their experiences and friendships.
On a Caravan you might travel for several weeks and make lasting friends with someone from Georgia, and you live in Montana.
The annual rally provided that wonderful opportunity to renew your friendships and visit new territories.
The Airstream World is one built on friendships, new horizons, and adventures.
---
[1] Enos Axtell was from Missouri and had a friendship with Harry Truman.
[2] Bob Smith went on to become the most prolific Caravan Leader for Airstream