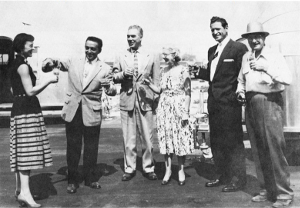 Airstream's history began on the pages of Popular Mechanics. By using and improving the mail order blueprints, Wally Byam began his first Airstream in 1931. From his garage on St. Andrews Place in Los Angeles in 1931, his dream became reality. There were many factory locations before the company began manufacturing on North Main Street in Los Angeles, California.
In 1952, it became apparent that the Main Street plant couldn't reach a production level to keep up with their national market and sales. The first step that Wally took was the opening of the Ohio factory in Jackson Center, Ohio.
The benefits were two-fold. Now Airstream had the production to meet the sales required from coast to coast. The revenues generated in Ohio allowed Wally to move from his restricted downtown Los Angeles factory to a modern expanded plant in Santa Fe Springs.
The California plant had one more move and that was to a state-of-the-art plant in Cerritos, California. Jackson Center Ohio expanded to their current production facility after moving from their first facility across the street.
This picture shows the celebration after the first Airstream rolls off the production line.
Wally Byam isn't in the photograph. Why? Because he is leading the Airstream Wally Byam European Caravan!