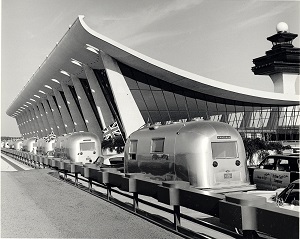 The story doesn't begin here at Dulles International Airport, located in Chantilly, Virginia. It begins in Los Angeles, California in 1962 after Wally Byam passed, when Stella Byam and Airstream executives had a meeting and set in motion the Wally Byam Foundation. The Foundation spanned 15 years from 1962 to 1977.
In 1967, a major event happened: Caravan America. Sponsored by the Wally Byam Foundation, a contingent of British Caravanners flew into Dulles. The group was going to travel across America from Chantilly, VA to Santa Rosa, CA. Airstream and General Motors furnished twenty rigs for the group to travel coast to coast. With the group was Mr. Frank Collins, not only their leader on this sojourn but also the president of the Caravan Club in the United Kingdom founded in 1907.
Assisting with this group were Wally Byam Caravan Club members. They familiarized the group with their rolling equipment and traveled with the group for a few days.
When the British group returned home from Santa Rosa a similar trailerist group came in from France and returned to the East Coast, retracing the British itinerary.
More groups and individuals were Foundation guests over the next ten years. The Foundation worked with the United States State Department to have returning Foreign Service officers use equipment to travel through various parts of the United States to familiarize them with the nation they were representing.
To understand the Wally Byam Foundation more, please read the following "Purpose" defining their mission.
"Purposes…to help achieve a greater knowledge of the daily life and cultures and of the history and the aspirations of peoples in our own country, in all the Americas, and around the world---and thus to enhance international understanding and goodwill…
To further the concept of travel by trailer as a unique and an increasingly rewarding medium for the advancement of such education and communication on a people-to-people, person-to-person, basis; and to that end, to encourage improvement in the environment in which such travel takes places both at home and abroad…
To help develop new areas in which older, retired, or senior citizens may continue to participate in travel and learning, and at the same time to exercise leadership and judgment so that all may share the accumulated wealth of experience and wisdom of maturity..
To broaden the opportunity for Americans continually to discover America in all its variety and wonder, so as to foster knowledge in depth of its people, its natural beauty, its culture, history and problems…
And to provide wider interest in, and give impetus to, tourism in the United States by citizens of other nations---thereby not only aiding in the spread of knowledge of America, but also to help toward reaching equilibrium in the important sector of the United States' balance of international payments."
The initial Board of Trustees:
Cyril Bath, Industrialist

Mrs. Stella Byam, Wally Byam's Widow

Mrs. C. B. Patterson, Editor of National Geographic

Lowell Thomas Jr., Film and television Producer

Glenn Bekins, Bekins Moving and Storage

J. Brown Hardison, RV & Mobile Home Magazine publisher

Robert Peterson, Syndicated Columnist "Life After 40"