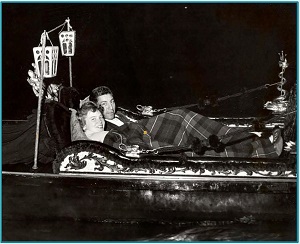 Love is in eternal bloom. In 1960, Wally Byam had a party to celebrate the marriage of Art and Toni. Somewhere on the African Caravan they fell in love and were married. Secretly! No one knew. So in Venice, Italy their marriage was announced, the Caravanners gathered to celebrate and Wally rented the wedding gondola.
Art was the mechanic and caboose on the 1959 Airstream Wally Byam African Caravan. He assisted in dozens and dozens of International Harvester mechanical failures, and Airstream repairs. His friendship with Wally and Stella Byam began years before. Art had worked at the Santa Fe Springs, CA factory. His competence and work ethic caught Wally's eye.
Toni's father, Tony, was a member of a minor league hockey team. So she and her parents and younger brother became Caravanners in 1959 on the African Caravan.
Wally had limited the Airstream length on the Caravan to 26 feet. I have no idea the promises and cajoling made by Tony that caused Wally to make an exception. So the Caravan now had its only 30 foot Airstream.
In the Belgian Congo Drum Hill almost ended the 30 footer's journey. It was a hill from which the natives played drums to signal oncoming traffic, very similar to flagmen in our construction zones. The narrow, steep, dirt road had sheer drop-offs and when the right tandem wheel and tires began to slide over, Tony thought "kiss my Airstream goodbye." Skilled driving and towing avoided a catastrophic accident.
Toni's parents are gone, but the marriage brought forth two sons. Toni and Art currently live in Texas.
The cliché is that you never know what will happen on an Airstream Wally Byam Caravan, and it's so spot on. Best wishes Art and Toni.