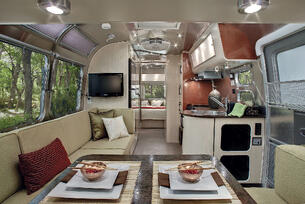 Zen-like – the Serenitys
Ready to escape your own hustle and bustle? Make ready to consider our International Serenitys. With peace and tranquility in mind, these standouts offer calming colors and floorplans designed with efficiency in mind.
A place for everything, and everything in its place, Serenitys are loaded with plenty of storage so clutter is no issue. All components are tasteful and top-of-the line keeping your day-to-day travel worry free and aesthetically pleasing. Residential-style components like Corian® countertops, and high-end fixtures complement a variety of décor choices in this upscale trendsetter. Sleeping arrangements allow for up to 6, or, a simple floorplan choice allows for a lounge to be replaced with two recliners for couples.
Whether you're cooking for friends in a state park or snowbirding toward your winter destination, know your retreat is ready when it's time to relax.