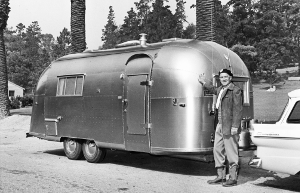 The 140th Kentucky Derby has just concluded, with California Chrome winning. My thoughts go back to my Airstream memories of 1957. Airstream Trailers, Inc. offered their first domestic Wally Byam Caravan, the Kentucky Derby/Indianapolis 500 Caravan, taking in the some very beautiful and historic areas, and adding two premier sporting events.
For Wally Byam, it was the introduction for "Stella's Gold Airstream" designed by Stella in Europe as her dream Airstream. Wally displayed "her Airstream" to the world as an entry in the Kentucky Derby parade. The real grandstand for the Gold Airstream occurs on the Airstream Wally Byam African Caravan.
The Caravan is watching the race and at the finish line Bill Shoemaker pulls up early on Gallant Man, a misjudgment on the location for the finish line, and Iron Liege wins the 83rd Kentucky Derby.
On May 30th the Caravanners watched Sam Hanks win the 500. He led for 136 laps - not bad, considering the race is 200 laps!
I personally touched history after today's Kentucky Derby. I went to my bookcase and pulled down two glasses. They belonged to my mother, Helen Byam Schwamborn. The one from the Kentucky Derby served her a traditional "Mint Julep" and for the Indianapolis 500, a glass with unknown content.
You can imagine the goosebumps and chills when the Caravanners listened to "My Old Kentucky Home" at the Derby and "Back Home Again in Indiana" at the 500. These are the traditional pre-race songs.
For those that can find an old copy of "the Caravanner," Airstream's newspaper in the day, look for Volume 4, Issue 2 from August 1957. It has a great story about their wonderful All-American Caravan written by Helen Byam Schwamborn. It also mentioned Caravans that never took place, specifically South America.
The second Airstream All-American Caravan traveled the Oregon Trail headed up by Andy Charles, President for the Jackson Center Airstream plant. The Caravan is held in the summer of 1957 retracing the pioneers' early Western migration.
Louis Mousley, seasoned Airstreamer, Caravanner, and wagon boss, provided his knowledge and skills as a wagon boss for the Derby/500 Caravan. Louis again reprised this position on the 1959 African Caravan.
While in Louisville, Kentucky the Reynolds Aluminum Company had pictures taken and a story written about Wally Byam, the Caravan and the Gold Airstream. It appeared in their 1957 company magazine.